On the evening of June 30, 1893, an African mine worker picked up an immense diamond in a shovelful of gravel which he was loading into a truck; he hid it from his overseer and delivered it directly into the hands of the mine manager. As a reward he he received? 500 and a horse equipped with saddle and bridle.
The diamond weighed 971 old carats, equivalent to 995.2 metric carats. It possessed the marvellous blue-white color characteristic of the finest Jagersfontein diamonds, especially cleavages, and was of very fine quality, although there were numerous internal black spots, another Jagersfontein characteristic. In shape the stone was flat on one side and rose to a peak on the other, rather like a loaf of rye bread. Apparently it was this fact which caused the diamond to be given the name of Excelsior, meaning higher.
Prior to the discovery of the Excelsior the only rival to the stone was the legendary Great Mogul of Indian origin, generally thought to have weighed 787.5 old carats.
After prolonged study it was decided to cleave the diamond into ten pieces: this operation resulted in the three largest pieces weighing 158, 147 and 130 carats. The polishing was supervised by Henri Koe and yielded 21 gems, ranging from 70 carats to less than 1 carat. They totaled 373.75 carats which represented a loss in weight of almost 63 per cent. The final result, however, was considered to have been better than anyone had dared to forecast.
The Excelsior gems were sold separately, three of them being bought by Tiffany & Co., in their old store in Union Square in New York City. The names of the other buyers have not been disclosed but it is known that De Beers displayed one of the marquises at the New York World Fair in 1939.
The gem reappeared for sale in May 1991 when the GIA certified it as "G" color (rare white), and again in May 1996, when it was bought by Robert Mouawad.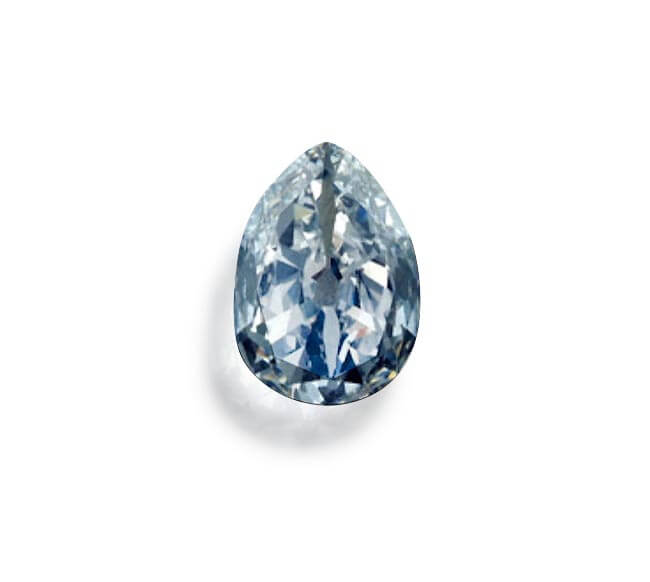 Weight: 69.68 carats
Shape: Pear
Grade: G-VS2